Do you know who Linda Ikeji's husband is? There is a lot of gossip around his personality lately, mostly due to the birth of Linda Ikejis son.
Linda Ikeji is known for her blog. There is no need to say that writing is her passion, as she touched the pen for the first time at the age of 10. Today, her life is on display all the time, and the current question everyones asking is about the identity of Linda Ikeji husband.
Who is Linda Ikejis husband?
So let's answer the question on everybody's mind: is Linda Ikeji married? As it turns out, there is actually no husband to speak of. There have been many rumours on the subject of his identity, but there is yet to be a man to 'put a ring on it' when it comes to Linda Ikeji. However, as we all know, not that long ago, the famous blogger had a child, and the identity of his father has been made public by Linda herself.
Interesting facts about David Nehdar - husband to the famous Lacey Chabert
Linda Ikejis baby daddy, as she revealed in the blog, is a wealthy oil mogul Sholaye Jeremi, who is a close associate to Minister of State for Petroleum, Ibe Kachikwu.
Sholaye Jeremi's career
Sholaye Jeremi is a billionaire and a powerful businessman in the oil and gas sector. He earned his reputation as he worked hard and built his business with his own hands. Today Sholaye is characterized as a man who pushes boundaries of entrepreneurship and receives a stunning result.
It is reported that the tycoon is a well-known lobbyist and contractor of various oil dealings in Nigeria and outside the country
Sholaye is also a close associate of oil magnate Femi Otedola, owner of Forte oil and one of the top five wealthiest men in Nigeria.
Sholaye was also spotted together with the richest man in Nigeria Aliko Dangote and billionaire oil mogul, Ayiri Emami.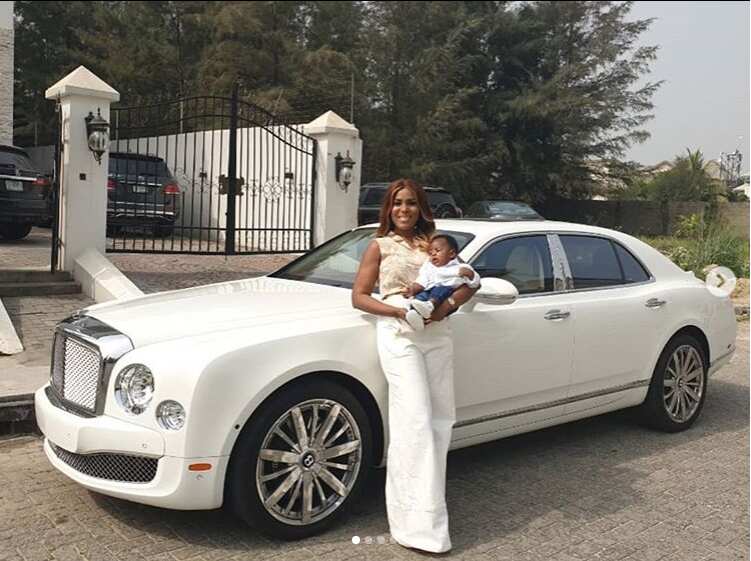 Jessica Rogan: mystery, controversies, and discovering truth
Sholaye Jeremi's personal life
READ ALSO: Linda Ikeji's son and baby daddy
The relationship between the two billionaires had been quite tumultuous. Even though Sholaye and Linda are no longer together, on the day when their son Jayce was born, Jeremi wrote on the social network that he thanks God for the wonderful gift.
However, while he is the first child for Linda, the newborn boy Jayce Jeremi is not a firstborn for his father. Sholaye already has a son who doesnt live in Nigeria. It is likely, however not confirmed, that his other family might be living in the UK.
Generally speaking, Sholaye Jeremi is quite a humble man, who keeps his personal life private. There is not much information about him in the open sources and he, in turn, doesnt tell about his life anywhere public.
What happened between Sholaye and Linda?
Linda Ikeji met the father of her child, Sholaye Jeremi, in 2015 at the restaurant the day after Christmas. Their relationships started in 2016, but till the birth of her child boy Jayce she didnt reveal much about them.
Top most interesting facts about Sofia Balbi
However, in September 2018 Linda Ikeji revealed the reason why she and Sholaye are apart. According to her, their relationships were at some period made in heaven, but eventually it collapsed.
As Linda wrote in one of her posts, the relationship with Sholaye is a complete closed chapter now. She described that at the beginning it was a whirlwind romance. Having fallen deeply in love with Sholaye Jeremi, Linda thought that he was the one. However, soon afterwardlinda ikejisplit, because Sholaye was scared of attention he got by being with Linda.
The couple got back together and split up for a couple of times, till in 2017 they started seeing each other again from time to time and eventually Linda got pregnant, even though, she claims in her blog, that it wasnt planned.
The couple was thinking about having a wedding, however, suddenly Sholaye Jeremi started mistreating Linda, even with some aggression, so she had to cut him off her life. She gave birth to a lovely son. Between Linda and Sholaye, the relationship is over, the blogger says. So islinda ikejiengaged? Apparently not.
Read also
Linda Ikeji and her siblings: top facts
About Linda Ikeji
Linda Ikeji is a famous blogger and model. She started blogging after her graduation in 2006, but the real fame came to her in 2012, when she was mentioned by the Forbes. In 2014 her name was googled most of all and in 2018 she received the Honorary Doctorate Degree from Trinity International University in Georgia for her outstanding work in Business and Media in Africa.
Those who are wondering about Linda Ikeji age will be glad to find out that she is 38 years old. However,linda ikejiis hard to tell when you look at Linda Ikeji photos, as she has quite a youthful glow to her.
So now you know all about Linda Ikeji's husband (or rather his absence). The man whom she thought would be her husband is not an active person in media, yet still powerful and wealthy.